Worn out windows waste a lot of energy; they allow heated or cooled air to escape, and they conduct heat into and out of the home. Stopping these things from happening can cut your utility bills noticeably, but before you can go about fixing the problem, we have to work out which problems you have, and which you don't.
I. Cracks & Air Gaps
If you discover that your windows are allowing air to freely move in and out of your home, you've spotted a major opportunity to save some dough. It's a very common problem, and if unaddressed, it's costly.
In general, it develops in two ways. First, when the seasons change, particularly in places where the climate is given to seasonal extremes (Michigan and the whole upper Midwest, we're looking at you), the beams and supports that give homes their strength respond to changes in temperature and moisture by expanding and contracting—just a little. Those changes slightly change the shape and size of wall openings for doors and windows. Over a number of years, the openings can undergo substantial cumulative changes, placing considerable pressure on door and window frames. If the frame is weak, it will crack.
---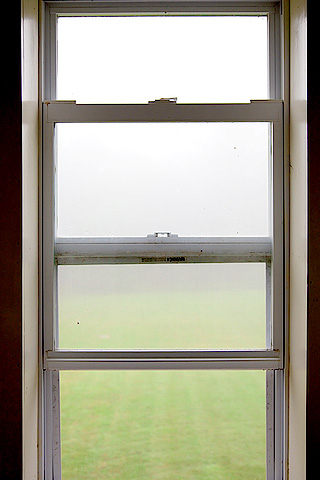 ---
The second cause of air leaks, is the deterioration of weather stripping, calking and sealants, and the material from which the window itself is made. Materials like wood, cheap vinyl, or fiberglass are known to warp over time. When sashes warp, they no longer sit neatly within the tracks they ride on, and gaps appear. While you can replace the weatherstripping and calk, if you find that your window is warped, all you can do is shake your fist. Time for a new window.
II. Failure of Multi-Pane Glass Units
Worn out or badly designed windows often allow rapid transferrence of heat through the glass—out of the home during winter, and into the home during summer. The insulation of the glass can be inadequate for a couple of reasons.
First, the glass may be poorly insulated to begin with. If your window employs "clear glass," rather than Low-E-coated glass, it's transferring about 30% more heat into and out of the home than it should. If you windows are antique, and have original glass, consider replacing the glass with a higher efficiency low-E coated glass, or if possible, add a Low-E film layer to the existing glass.
Next, the double-pane insulated unit may have physically failed, allowing the argon to escape the sealed unit, destroying the layer the of insulation provided by the previously airtight space. This will immediately slash the efficiency of the window, making it no more effiecient than an early-twentieth century single-pane wooden or aluminum window. The surest sign that this is your problem is the presence of condensation between the panes of glass (notice that condensation on the interior or exterior glass surfaces does not generally indicate a problem).
This article was written by
Fenestration Group
and was published in
February 2013
.