Commercial Grade Construction
Residential grade replacement windows don't last—so we don't manufacture them. Instead, we're offering a window that doesn't break down under the strain of structural shift. None of our competitors can say that.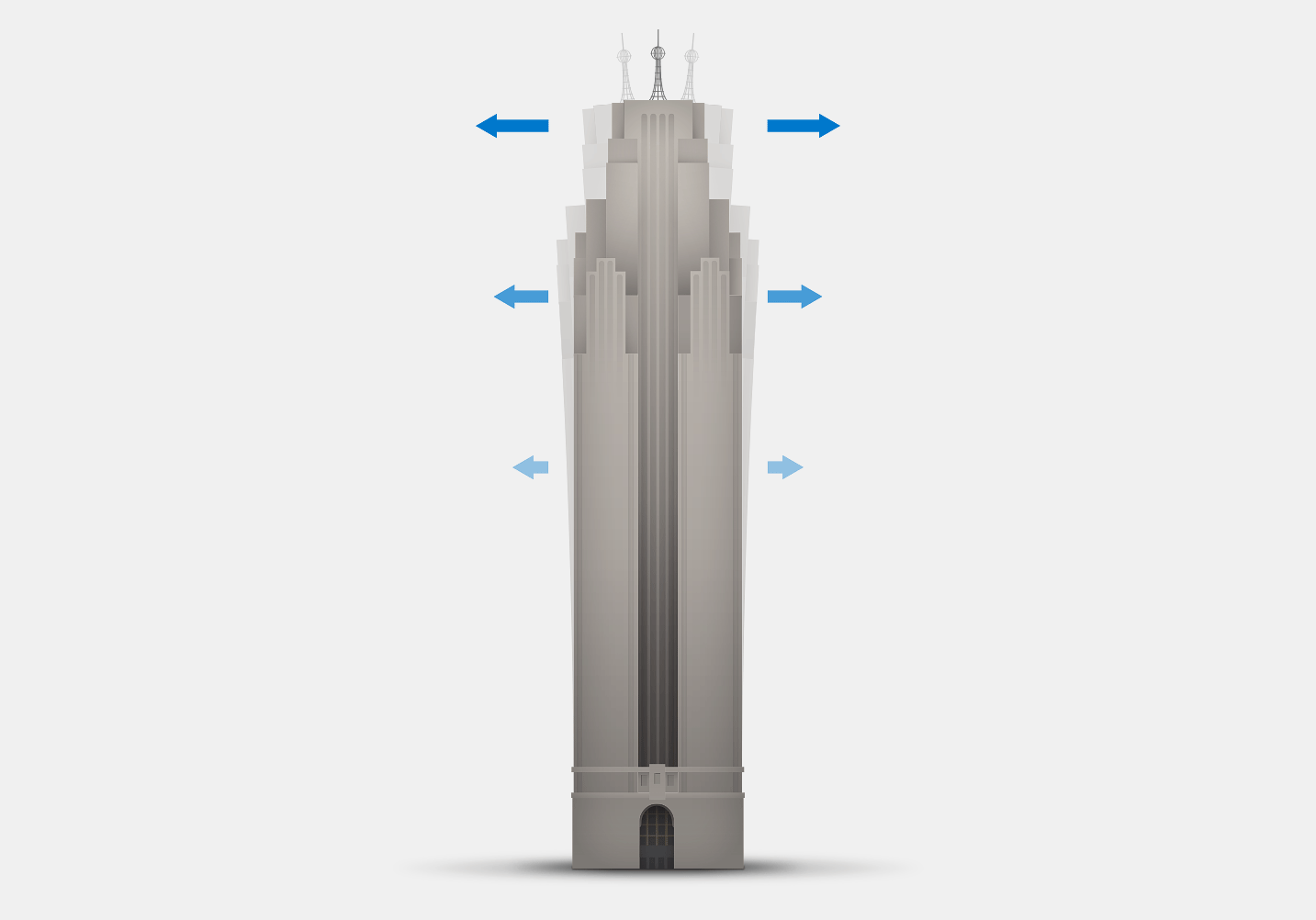 Structural shift destroys ordinary windows.
The materials used in residential construction expand and contract at different rates when heated and when cooled. That creates areas of uneven pressure, which in turn causes buildings to subtly flex and shift, as the seasons change.
Then a home or apartment building flexes, the weight of the structure shifts off of some load bearing elements and weighs more heavily on others. The amount of force involved is enormous. Experience shows that residential grade windows can't bear it. They give out. The frames warp making the sashes difficult to move, and the corner joints crack.
Our windows have what it takes.
Commercial grade windows* are certified by AAMA standards as capable of withstanding not only the forces exerted by single family homes, but must also maintain excellent performance under the shifting weight of much larger buildings.
Every WeatherGard window is approved for use in homes as well as in enormous, towering apartment buildings. You can have total confidence in our product if you're shopping for replacement windows for your home. Our window won't buckle under the pressure. Ever.
Proven strength & durability
Typical residential grade windows rarely last longer than 12 or 13 years before failing, and often crack or become impossible to latch due to warping of the frame by year 8 or 9. And that's under the pressure created by structural shift in single family homes.
Consider a building like The Park Apartments tower, on Adams Ave. in Detroit (see illustration), which we recently fitted with replacement windows. Compare the magnitude of force involved when that structure flexes to the forces present in even a very large 3-story home. Our window is certified capable of performing over the long term in both situations.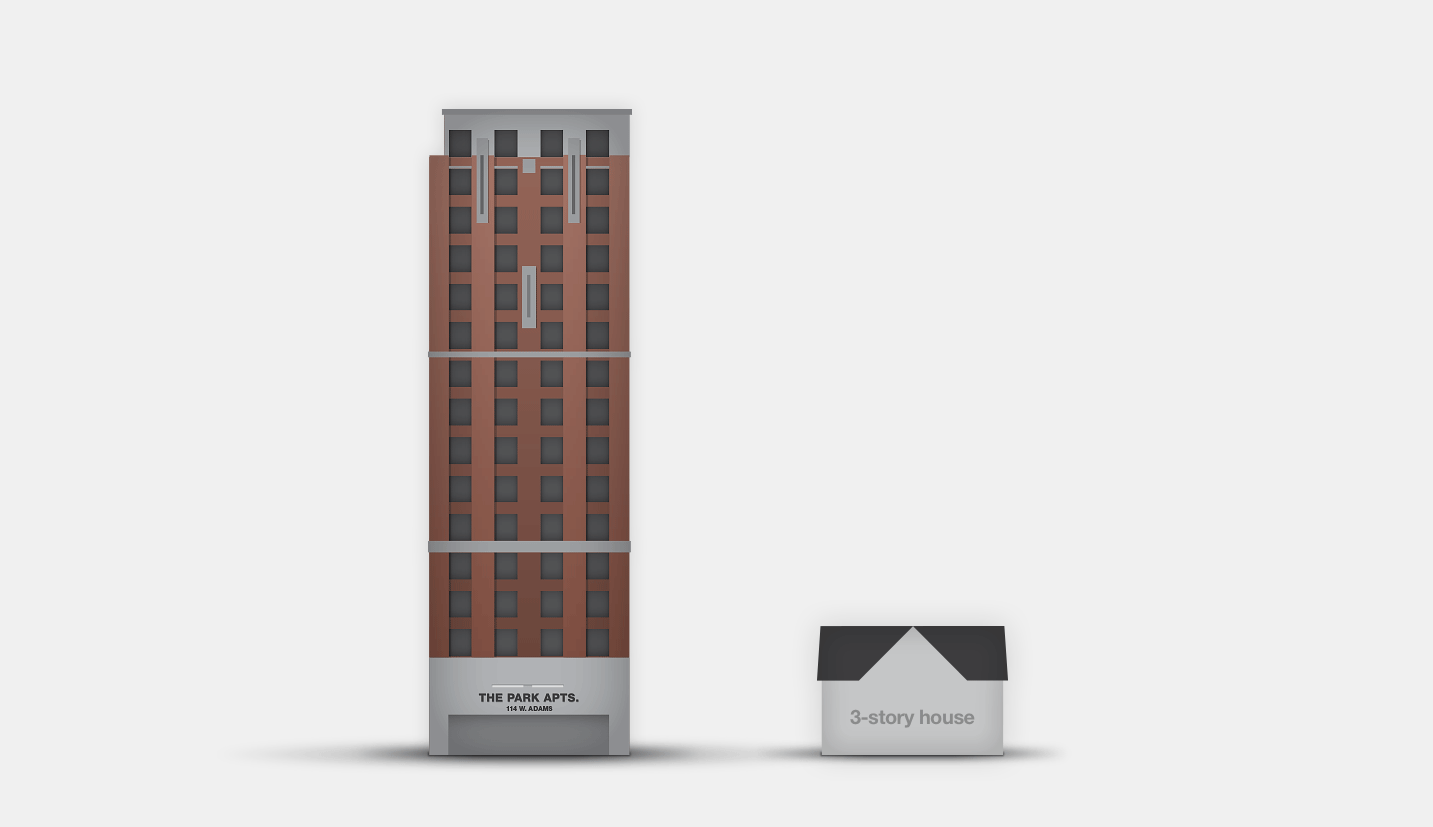 This is a powerful statement about the difference in longevity and brawn between our window and all of the windows our competitors offer.
Technical details
The American Architectural Manufacturers Association (AAMA) establishes standards known as 'performance grades' for fenestration products in accordance with both American and international building codes and other regulations. NAFS-2008 describes 4 standard performance grades: residential ('R'), light commercial ('LC'), commercial ('CW'), and architectural ('AW'). Each performance grade corresponds to a threshold of "design pressure" (magnitude values denoted in pascals [Pa] or N/m2, and range from 720Pa [R] to 1,920Pa [AW]) along with commensurate requirements on water penetration resistance, effectiveness in preventing air leakage and load deflection, among other things.
| | Design Pressure | Performance Designation |
| --- | --- | --- |
| Double-Hung | 1,920 Pa | CommercialDesignation under 2006 AAMA testing standard (AAMA/WDMA/CSA 101/I.S.2/A440-05). |
| Double-Slide | 1,920 Pa | Commercial |
| Casement | 2,640 Pa | Light Commercial |
| Awning | 1,920 Pa | Light Commercial |
| Garden | N/A** | – |
| Bay & Bow | N/A† | – |
WeatherGard windows and corresponding pressure figures and performance designations.
*For complete and up-to-date information on AAMA standards, please refer to http://www.aamanet.org/.
**Garden windows aren't measured for load deflection or design pressure insofar as they aren't designed to bear a significant load due to their position relative to any wall on which they're installed.
†Bay and bow windows are simply picture, casement, or double hung windows installed in a container box, making separate measurements superfluous.